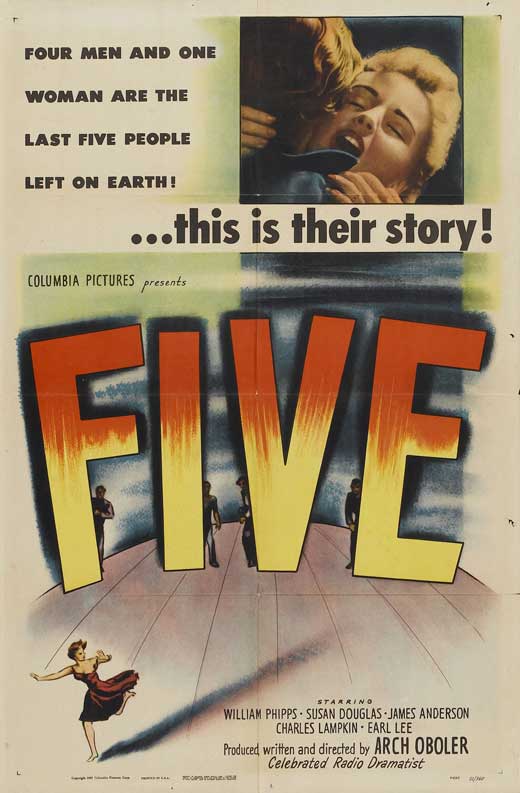 1 woman and 4 men are the only survivors of a nuclear apocalypse. Well, american survivors that is. Actually at first we only see two, a man and a woman, and he women is hysterical about "city is gone". After they ponder about the fact that they are safe here and rest of the world is dead, they find 2 other people coming in a jeep. However one old man seems to be dieing from radiation poisoning. They find another person, who climbed mount Everest, returned and found everyone dead. then he hitched a plane and went to america, but found noone around either. except the 4. They bury him and then they go back to their duties. they run a farm to gain food and discuss what are they going "to do with the girl". Cities have a lot of food, but they dont want to go there. They eventually start to bicker with each other, one wants to go to cities, rest dont really want to do it. The one that wants to is also a racist so he attacks the black survivor but he remains alive. Or maybe he hates him because he keeps quoting the bible. The woman also gives birth to a child, although she never looked pregnant.
The man that wanted to go to the city and the woman actually goes to the city after sabotaging the farm. the city is full of skeletons and is pretty much dead. meanwhile we got sirens for soundtrack that is very annoying. its on during whole city scenes, and thats like 20 minutes of sirens in your ears. Then they run around a bit and the movie ends.
Story: 5/10. i was ok to make it runing, but thats barely it.
Acting: 2/10. could have been better, could have been much better.
Sound: 1/10. those sirens, i still hear them.
Sci factor: 5/10. bomb exploded, everyone died, even those not affected by it. the premise otherwise is fine and since they dont really do much not much can ruin it.
Lasting Appeal: 7/10. a welcome change of pace in the 50s sci fi flicks, this one was slow, peaceful and yet somewhat interesting.
Overall rating: 4/10