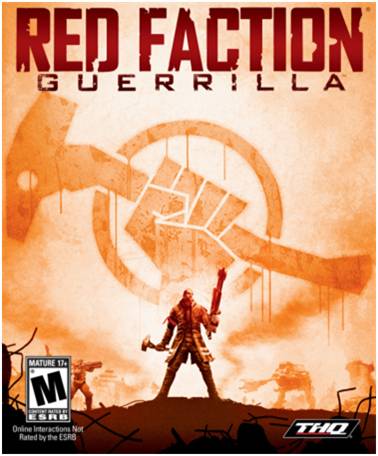 This is the third instalment in the Red Faction series, after a long pause. The first two were a linear extremely simplified shooters. first one was a fun, while the second one was bad. THQ appears to think the same as there is none but a single reference to a second one in this game, and its hidden so well that unless you are like me, a guy that does EVERYTHING, you wont even find it. The game follows the events of first game after around 20 years. Alec Mason, a mining engineer comes to Mars to work. mars is now "liberated" by EDF and ruled by it. Nothing like one dictator changing the other ech. During the tutorial your brother is being killed and you are arrested. Red Faction, another rebellion in the name of the one that broke from Ultor, this time against EDF. they save your life, and you go by "better red than dead". infact this phrase is very common in the game, while the EDF soldiers keep repeating "better dead than red". I guess they were having fun with that.
The gameplay is changed form the first two. This time you are in freeroam and take missions as needed. Open-world was a nice addition to the area as well as we get to see surface of mars now. Mars is divided into 5 (actually 7) sectors that you want to liberate. You can roam the land, do missions, do one of over 100 guerilla actions that are simply sidemissions and collect scrap. scrap is the currency in the game that you buy guns for. however you can refill ammo infinitely in your base, so once you get the weapon that's it. You can get salvage exploding EDF property, mining ore or doing missions. Me being me i did all of it, and ended up with 3 times more salvage than is needed. but for average gamer i would think its quite balanced really.
Collectibles are plenty. there are 300 ore to mine, over 300 EDF crates to destroy, 30 radio tags to be found and over 50 propaganda stands to destroy. Most of it is marked on your map once you get close so its not really hard to find any of them. but for people like me who collects it all, this map will help a lot.
Now to actually progress in the game you have many choices, but missions are mandatory. they help you "liberate" sectors at which point enemy forces disappear from them. To do that you must do all other main missions in that sector, in any order you want, and tnhe do a liberation mission. but to reach that you must take EDF influence down to 0. since i would destroy all their property i had no problem, but casual gamer may have to go search for edf to destroy or side-missions to do and cant just do the main story. however the influence falls fast enough for the game to be fun to anyone.
The story of the game is not very complex. your in rebellion to liberate mars and you do that. there is a twist near the end, that i anticipated due to some clues in missions before, but i find this actually pretty smart and best part of the story.
The world design is where the game is lacking. it uses the modified red faction 1 engine that allows you to destroy buildings. no more destructible ground but buildings go up in flames fully. it is very satisfactory to see a 4 story hotel crumble to a ground after some banging. you have sledgehammer for that and you can use one of many explosive weapons too. but it gets really old really fast since there is like 10 building models in the entire game, and the rest of map is as dull as possible. the world designer really didn't do his job here. less smoke and more building models next time guys. The destruction when you shoot a rocket at enemy and see whole floor tumble down is fun, but when there is 20 enemies, 10 of your guys and you shooting explosives inside a building it gets chaotic, very chaotic. and the controls doesn't help much. it felt like i was playing with xbox controller whole time. Its worth mentioning that while destroying buildings you can destroy while first floor and leave 1 single iron bar holding 2 other floors and it will still stand if the bar is in correct place. it takes A LOT to bring it down. way more than it should.
The world is populated by cars, more models of cars than of buildings, so yeah. some are driving some are parked and you can steal them all gta-style. infact if it wasn't set on mars and buildings were destructible it would be a very bad gta clone. the vehicle controls are awful. sometimes they jump ahead sometimes they barely move and trying to park one inside a building to blow it up so building would tumble is a hell of a job. they got the mass well though, trucks have more ramming power while light ones bounces of walls, but you can drive almost straight up with some into the mountains until you reach the end of map barrier. Its good for finding some shortcuts fr your "drive there" missions but way too unrealistic, even for mars. There are also "walkers". a giant armoured robot that's initially used fro construction but is a great weapon against enemy vehicles. there are 4 types of them and they are very powerful, but they are also very rare and slow. All in all, they are way too powerful.
Weapons are plenty. form simple machinegun EDF uses to explosive fly saws and electroshock for masses built by your own engineer. There is also a third faction - marauders. They are important for story, but otherwise they are just "another enemy". they carry different weapons that are interesting too and they are a bit stronger than EDF. EDF strength progresses as you go along with storyline giving you an increasing challenge, but i found that best tactic is to let your friends cover you and just go on doing what your doing (destroying building of freeing hostages for example). In weapon department it was really inventative and together with destructible buildings it is a game saver.
Graphics are very conflicting. at one side you got great character and vehicle models, on the other totally dull world and depending on weather condition, that all look very similar, sometimes it looks like everything is made of plastic. there is different atmosphere in different sectors but often its more annoying than helpful. Music is not much to talk about, but while in danger there is a tune that you get addicted to, i ended up singing the tune before going to sleep yesterday, so i guess it is good.
There is also a DLC, called Demons of the Badlands that explains marauders story a bit more and is set 10 years before Mason gets to Mars. Its basically like another new sector thats isolated form the rest, but you get to use marauder weapons and its more story- driven than the rest. There are also two different type of collectibles in there too. what would THQ do without collectibles. there is a map for it too.
All in all the destruction is what saves the game. without it it would be very dull game that borrows a lot from many other. According to X-fire i spent exactly 50 hours on this game, including the DLC, which is more than what it felt, so i guess there is some immersion. Overall i would give this game a 7, if it had no geomod engine, i would give it a 5. The uniqueness of destruction gives it that "one of a kind" feel. But i see many games starting to include that too (battlefield for example) so its going to loose that soon.
There is a 4th game, called Red Faction: Armageddon. its back to linear caves while keeping the destruction. I wont be reviewing it since my machine cant run it.
I must also note that there are little screenshots this time due to the fact that this game fought my screenshot makers all it could. half the time both fraps and UOSO returned black screens and if played in windowed mode (automatically happens if you alt-tab and wont return until you restart it), and even then half the time it failed to make screenshot.