Computer Parts Guide Part 1 11/8/2011
First one, hopefully everyone likes it!!!!!
Includes:
Part 1 -
Cheap Allrounding Computer! - For Some gaming, Internet Browsing and
various things you might need your computer to do. Price: $500-$650
Part 2 -
Gaming PC!- Fairly Cheap gaming pc that will offer you good FPS and
Performance in all games you play. Price: $1000-$1250
Part 3 -
Ultimate Gamer!- A Computer just for gaming that will offer you the best
experience that you could get. Price: $2500-$3000
---
Well, there has been lots of new tech released lately and there is going to be new AMD Bulldozer CPU's fairly soon, so look forward to that!
With all the new games coming out fairly soon such as Battlefield 3, Mass Effect 3, Modern Warfare 3, Assassins Creed Revelations, and many more, people might be interested in upgrading their computer hardware. So I hope you like this and it will be useful to you in your future upgrade plans!
---
Cheap Allrounding Computer:CPU:
Intel Core i3-2100 3.1GHz
$124
Motherboard:
Asus P8P67-LE
$129Memory:
4G Kit DDR3 1333MHz
$30Graphics Card:
EVGA 1GB GTX-460
$159PSU:
Corsair SU-430CX
$45
CPU Cooler:
COOLER MASTER Hyper 212 Plus
$30Case:
Antec Three Hundred Illusion
$60 Optical drive:
SATA DVD-RW
$20Storage:
SAMSUNG Spinpoint F3 1TB 7200rpm
$60Total Price:
$657
Slightly over the price but $7 doesn't matter.
CPU:
The Intel Core i3-2100 is one of the new Sandy Bridge CPU's, It is clocked at 3.1GHz and is a Dual core Processor. It has a 3MB Cache and has Intel HD 2000 Integrated Graphics. This CPU is good for general use but it is not a great CPU for gaming but it will still be decent. If you want to spend some extra money I would suggest getting an AMD Phenom II 955 processor, this is clocked at 3.2GHz and is a Quadcore with a 6MB Cache. The 955 is also overclockable whereas the i3-2100 is not. Remember that you will need a motherboard that supports the AMD AM3 CPU's and a better powersupply for the AMD Phenom II 955.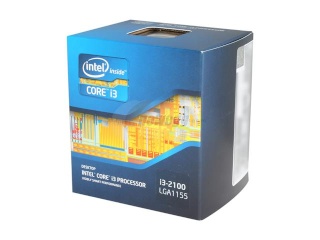 Motherboard:
The Asus P8P67 LE supports the new LGA 1155 socket CPU's (Sandy Bridge). Chipset: P67. It supports 32GB of RAM and has 2 PCI-E x16 slots for possible SLI/X-Fire support, it also has 3 PCI Slots and 2 PCIe 1x slots. It has 4 SATA 3Gb/s, and 3x SATA 6Gb/s. It also has lots of cool software features such as: Dual Intelligent Processors - TPU & EPU, Protect 3.0 - Protect the Earth & the system & you, EFI BIOS - EZ Mode - Flexible & Easy BIOS Interface, and AI Suite II - One-stop Access to Innovative ASUS Features.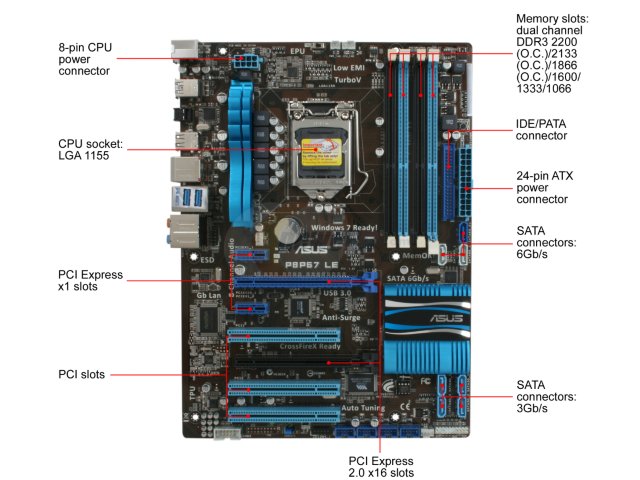 Graphics Card:
The EVGA 1GB GTX460 has a 720 MHz Core clock and a 1440MHz Shader clock. The Effective Memory clock is 3600MHz and has 1GB of GDDR5 Memory with a 256-bit Memory interface. It has 2 DVI ports and 1 mini HDMI port. It's max resolution is 2560x1600, SLI ready, requires 2x6 pin power connectors, and is 209mm long. This card is great for its price and will deliver good performance in all current games.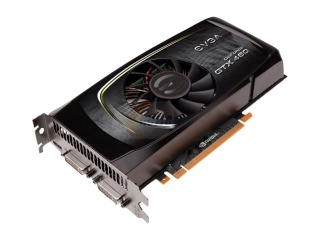 The Rest:
The 4GB DDR3 1333MHz memory is good for this build and will deliver good performance. The powersupply is definitely suffcient for this build but I would not recommend upgrading any parts without upgrading this powersupply because it is not a very high wattage psu. The CoolerMaster Hyper212 Plus is great and you would be able to do some overclocking with it if your cpu supports overclocking. The Antec 300 Allusion is great for this particular build, all of your parts will fit in easily, the case looks great and it has plenty of fans for great ventilation. Lastly the 1TB Samsung Spinpoint F3 has suffcient hard drive space for loads of games and programs you desire to install and the harddrive performs very well.
This PC will give you decent to good performance in games and will be great for general use such as internet browsing and watching movies etc.
---
I hope Part 1 was enjoyable to read and it is helpful to you in your future upgrading/computer building!
Part 2 will be posted on the 12th of August.
All parts are priced from newegg.com