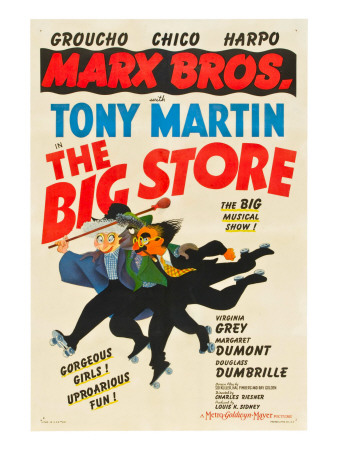 Looking at poster, "uproariuos fun"???
The music conservatory is about to be closed as Tommy Rodgers (any reference to rodger the rabit? he acts like one too. Bugs bunny that is the Rodger the Rabbit prototype came out in 1940 officialy, so it coudl ahvei nfluenced them) comes in and saves the day with his big talks. apperently he interited some "parking store" (whatever that is) and is going to invest this money into conservatory. Groucho gets hired to find out about that inheritans. Infact, hes there to bodyguard it, but they put him in the store as a floorman for coverup.
the manadger is not happy however. "if your a detective im a monkeys uncle" "keep your family out of this". They even make a remark to a black and white format of the movie in the fashio show "this is a bright reddress but technicolor (technology used to film colored movies in those times) is sooo expensive". Then we get a bunch of singers that look like logs with mouthes. they go all over the shopping mall singing. so thats what a parking store is, our regular shopping mall. The song goes waaay too long, i started doing other thigns while it was on.
After it finally finished we get some info about a plog to stela the story from the original inheritor, the singing bunny, uh, i mean tommy. The brothers goes on harrasing costumers instead of protecting mister Rodger. Eventually 2 "Bad guys" come in to rough the detectives out but neithero ne can find eachother. No wonder, when the detectives are sleeping in beds that are inside walls. what was up with beds that would go otu of the wall these days? whole store seems to be full of them. They decide to attract attention by playing piano, and even though thise seems to be a musica scene they do it the way that it doesnt get boring. Eventually they get the greycoats (bad guys) but pospone the signing til lthe evening, stupid stupid stupid

they also decide to thor a party with vine, women, food, women, music, women and more women. and those are exact words of them. we get yet antoher musical sequence of harpo playing arf. they should of better put it into 40 minutes of fun than 80 minutes of rare fun and music. but it was 40s, even though the terdition was dieing some older performers woudl still put a lot of musical scenes in their movies. Its good that with Abbot and Costello that tradition died quickly.
Anyway we get to a party of celebration of the signing and we see crooks dont give up. they change the camera of photographers, who convieniently leave it lieing on the table, with a camera with a gun inside it. however the plan doesnt work and they accientaly take a picture of the manadger kidnapping a girl. But ocne they make the picture they get assaulted by the manadger, so the chase sequence begins, and this is a pretty good slapstick as it goes. Eventually they figure out the hidden gun aswell and it all ends well.
Rating: 6/10
It would appear that this movie is not hosted for viewing. Thank you american lobbysts, you have killed cinema history.